Top 3 Myths About Remote Web Developers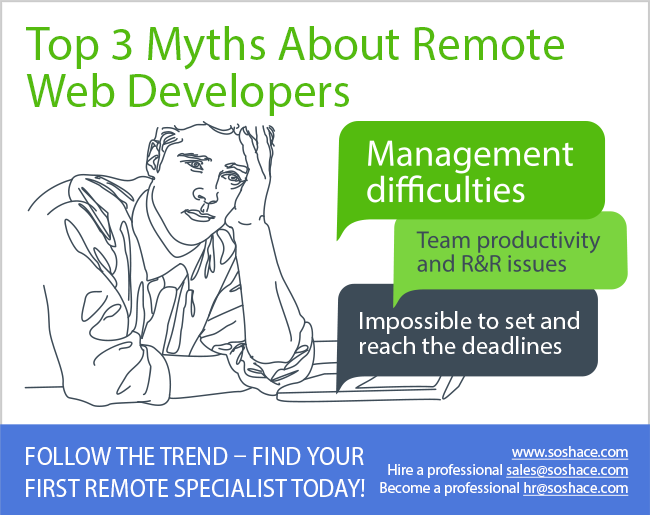 Without a question you have heard many times about the Fortune 500 remote tech teams, which achieve from year to year incredible success in business, working remotely and hiring freelance web developers or full-time remote programmers for their projects and product development. Dell, IBM, Apple are illustrative examples of the companies producing high-end products and successfully utilizing the remote workforce trend at its full capacity. Then why do you still treat with caution an opportunity of hiring freelance programmers?
It is only fair to say that there a lot of stereotypes about hiring remote specialists, which don't let business owners hire web developers via programmer recruiters or by means of freelance marketplaces. Let's name them top myths about remote web developers and make an attempt in this article to explode them.
Myth #1 – The Management Difficulties
Of course, the management difficulties may appear and due to this fact it's so important to hire remote web developers and remote programmers wisely and not to skip the basic pre-hiring assessments and tests. A business owner or a project manager should always remember that a web developer portfolio and the overall freelance marketplace rating doesn't guarantee a high level of developer professionalism.  It means that with the decent approach you can easily neutralize this potential risk of finding the wrong programmer for your project.
We also should mention that another potential management difficulty which can be effectively neutralized is the cultural and language issues. For example, to minimize the cultural risks it is important during the pre-hiring process to identify the candidate's corporate ethics and his psychological profile. For neutralizing language barriers (because many remote web developers live in the countries where the English language is not an official language) we recommend implementing pre-hiring English test, which can help your company easily to hire a web programmer with a very good level of English. At Soshace we are testing all our programmers before offering them a project.
Myth #2 – The remote team members can negatively affect the overall team productivity
Another myth which is prevailing among business owners is connected with the fear that your potential remote web developer will never become a real team player and integrate well with your team, but that's for sure not true.
If your company hires a professional programmer with the high moral standards, corporate ethics, good level of English and the top-notch skills in web development, then you should not worry at all that this person will negatively affect your team productivity. Moreover, if a manager shows a web developer his trust, respect and identifies the correct short-term and long-term goals, as well as sets the KPIs (read our article on How to make your remote work more effective?) a company will get a devoted team member and loyal employee.
Myth #3 – Impossible to set and reach deadlines
Of course, many business owners may think that it is impossible to set and reach deadlines in the process of cooperation with the remote web developers. They think that if a person is working remotely he/she can be the reason for the project failure, but of course, it's an old-fashioned prejudice. The reason of the project failure in the most cases is in the communication gaps, which may exist even in the office teams and misunderstanding of the tasks on both sides (SMT side and the employee side). It has nothing to do with the remote team members. The most important part in such case is to create procedures and manuals, set up communication channels, check on a regular basis the changes and developments of the project, provide feedback on time, – communicate your expectations effectively. Yes, it may seem weird, but not every manager can really communicate his/her expectations effectively and in the most cases web developer – client relationships come to an end due to the basic personal misunderstanding on both sides.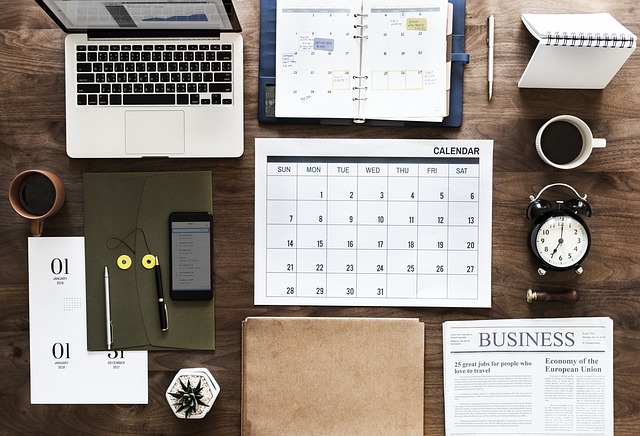 It is important to establish a clear language between a business owner or project manager and a web developer, and not simply expect that a programmer just jumps smoothly in your project without any additional explanation of the current situation or rules and will start to work the way you want without any support or training from your side. Every team and company has its own rules. If you're a hiring a remote web developer make sure you clearly understand his typical working day, his daily activities and tasks he has to do for completing your project. Communication, understanding, and expectations are the most important elements of the successful development of your project.
And always be ready that even if you planned and organized everything some additional changes and steps may be required, because something completely unexpected may happen in the process of work. This is the case of any sphere of business or side of the project and not only the web development, but that's also the reason why having clear expectations, plans, strategies, project briefs is so important and may help a professional web developer to offer a proactive and right solution in the case if something unexpected takes place. Global networking and communication is for sure a very challengeable thing, but it actually offers more opportunities than challenges. You should always remember that the right web developer for your project may reside in any country in the world. Many live in the USA (the average hourly rate is 80$), many in Russia (an hourly rate is only $35), some in South America. No country has a remote web development monopoly. For certain the top specialists prefer to work for the best managers and teams, as talents attract talents.
We are looking forward to meeting you on our website soshace.com