5 Best JavaScript Conferences to Attend in 2019
Programming in general and its areas like web development are typically considered to be a secluded activity: a common image would depict a programmer sitting alone in their dark room, in front of a computer. Although there is some truth to this stereotype, programming is also heavily reliant on team work, i.e. the power of communication between individuals. The world of web development is a global community, but sometimes it may be hard to see this and appreciate just how closely we're all connected. To solve this problem, we organize tech conferences — these events help us feel more connected and engaged.
The need for communication — not only with team members but also with the global developer community — turned out to be really powerful, creating an aptitude of tech conferences where the developers finally got an incredible opportunity to talk about their favorite technologies and teach them. In the conference environment, years-long debates like "React vs. Angular" are finally silenced: we start to appreciate our global JavaScript community, so evangelists of various frameworks, tools, and libraries can talk about their favorite technologies in peace.
Nowadays, there's a tech conference for everyone's liking: PyCon, JavaZone, DevCon, Agile Coach Camp, and so on. With web development being an incredibly popular domain, there's no shortage of relevant events, meetups, and cons for web developers to gather. Still, with an abundance of conferences to choose from, developers often feel overwhelmed: which one to choose and attend? Which one to watch on YouTube? Which one to follow on Twitter and send a "thank you" message to the organizers?
We felt overwhelmed too — so we decided to create a neat list of the best JavaScript conferences of summer 2019.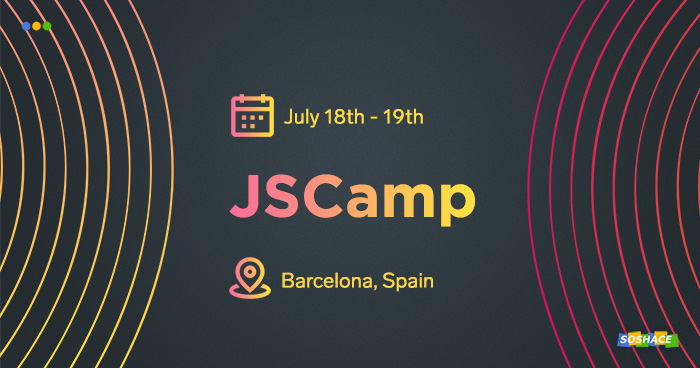 Just a month away, JSCamp 2019 will offer a deep technical dive into the world of modern web technologies. Spanning two days, the conference will house insightful and inspiring talks; some of them are:
A sister conference, CSSCamp 2019, will be held together with JSCamp: although lasting only a single day, it will house a plethora of great designers and developers discussing how to create a better web — that is, a faster, more secure, and more accessible web — and provide the best user experience. Here are some of the interesting talks that CSSCamp 2019 has to offer:
Self-proclaimed as a federation of developers, JSConf 2019 organizers encourage local communities creating JSConf(erences) of their own. This is why their website boasts an impressive array of cons taking place all over the world: Hungary, South Korea, Australia, Argentina, Brazil, Iceland, Belgium, China. Naturally, the US is also on the list — and so we're taking a look at JSConf US 2019.
The conference's aim encompasses both technical and social aspects of programming: on the one hand, it strives to push the boundaries of what is thought to be conceivable with JS; on the other hand, organizers also focus on social activities to foster human interactions: their "Activity Day" encourages attendees to take a break from relentless coding and have fun with surfing, kayaking, golf, or poolside relaxation. Here are some of the interesting talks that JSConf US has to offer:
Although it's not a 100% JavaScript-focused event, Full Stack Fest would still be very valuable for all developers: the talks at this conference will broaden the general understanding of modern web technologies: No matter if you consider yourself a backend, frontend developer, or anywhere in-between, Full Stack Fest 2019 is for you. Here are some of the interesting talks that Full Stack Fest has to offer:
Rather harsh Nordic climate will be negated by the warm welcome that Nordic.js organizers and speakers bid you: with over 1000 developers, designers, and creatives gathering for this 2-day conference, JavaScript will be pushed to its fullest potential — and social activities like "Dinner with strangers" (pairing you with 5 attendees you don't know at a restaurant). Here are some of the interesting talks that Nordic.js 2019 has to offer:
This year's iJS will span over 5 days and feature more than 90 sessions, keynotes, and talks. One of the conference's tagline is "JavaScript is everywhere!" — and this is echoed by the variety of topics iJS speakers will be covering. Here are some of the interesting talks that iJS 2019 has to offer:
Conclusion
Conferences come in many shapes and sizes — and with just enough patience, you're sure to find one that fits you just right. After all, we're all part of this global developer community — and whatever crazy idea you want to implement with JavaScript, there will always be like-minded people to join in. 🙂