The Best Work Tools for Remote Teams — Part 2: Team Communication
As discussed in our previous "Tools of remote work" installment, remote work is not just a trend for online magazines to report on; rather, it is a new way of working — one that makes remote professionals happier and more efficient. Indeed, remote teams are reported to be 13% more productive than their office counterparts — so one might think that simply closing the office down and making the whole team remote would be the solution to all life problems.
Still, remote workers need certain tools to organize their workflow in the best way possible — for instance, which app should be used for in-team communication? In this article, we will examine this question and come up with a number of apps and services your remote team can use to boost their performance.
Team communication tools: why are they important?
Communication within a team means so much more than just transmitting a message like "Illustrations submitted, you can upload the post now" — it also means the way your remote professionals interact with each other; in today's recruiting environment, this is ever so important. A good question to ask is: are your remote workers actually finding it easy and convenient to communicate with each other via the current software? If not, maybe it is time to look for better software — one that facilitates communication, not hinders it?
Curiously enough, many tools cannot be placed into a single category: communication apps, for instance, offer a lot of productivity features. One of such features that many teams need is screen sharing — ideally, you would want to use communication software which also supports this feature (instead of using software designed specifically for screen sharing and unable to anything else).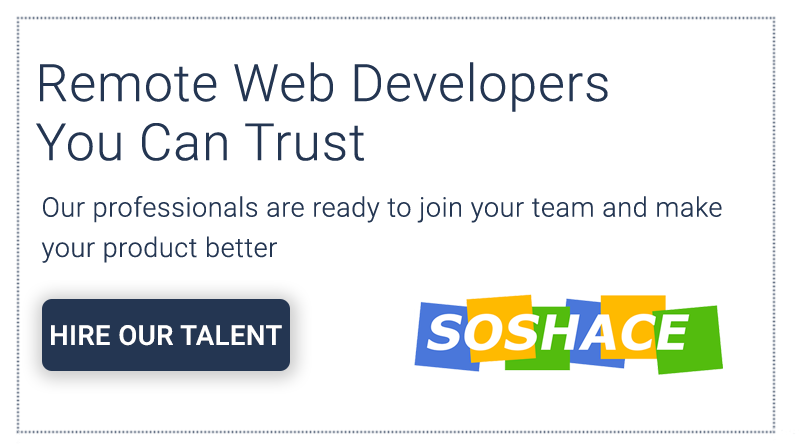 At Soshace, we work in remote teams — this can be a challenge for communication in and of itself. Our experience tells us: the software does not matter that much (a remote team can use hip and cool Slack or good old Skype); more important is the team's understanding that they need to organize an efficient and convenient way of communication. We are always trying to follow this rule — and this is why our remote web developers are so great.
Slack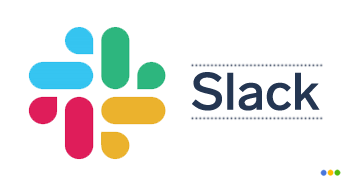 Self-described as The collaboration software that moves work forward, Slack is a powerful platform that takes every definition of "communication" imaginable and offers to use the software accordingly. For some people, team communication is all about brainstorming ideas together, for others — sharing work documents, annotating, and discussing them (and for some people, well, it is all about chit-chat). Slack aims to satisfy all of these groups via organizing work chats in different channels — here's how this app does it.
In essence, Slack communication happens in different channels — each of them can be designated with a specific purpose: discussing projects, informing about company updates, and off-topic chit chat. Additionally, teams get their own channels where they can talk and collaborate on team-specific projects and files. Organizing people by channels proves to be an effective system which, instead of forcing remote professionals to soak in unimportant information, lets them self-manage independently.
Besides, Slack offers a powerful integration system which allows its users, as Slack itself puts it, spend less time juggling tabs and more time focusing on meaningful work:
Integrating Google Drive, for instance, enables users to create, import, and search through documents and get updates on the latest changes.
With Zoom integration, users can start instant meetings from any Slack channel, private group, or direct message.
Integrating GitHub, users can receive project updates (e.g., new commits, pull requests, issues, code reviews, deployment statuses) and even make changes via slash commands (which look like this: /github [action] [resource]) — close, reopen, and open an issue or pull request.
With Trello integration, users can add new Trello cards directly from Slack, then join and edit them, inviting team members to collaborate.
For small teams wanting to try out Slack for an unlimited – time, "Free" plan is available — however, its main caveat lies in 10,000 messages limit: after this mark, older messages will be replaced by newer. "Standard" and "Plus" plans allow storing an unlimited amount of messages, coupled with larger file storage and security features.
Price per user, per month: $0 (Free) / $6.67 (Standard) / $12.50 (Plus)
Zoom
As one of the Zoom clients puts it, Communications were really broken… technology was getting in the way — we had a variety of different systems: for conference rooms, for audio conferencing, video conferencing…; so Zoom addresses this problem by offering all-in-one video and audio communication solution. Zoom creators probably thought: "How can video communication, an essential part of the Internet, be so cumbersome?" Their answer was to combine various services used in the enterprise area into a single service.Zoom offers several products, all of which share one design goal: make in-team communication simple. Its main products are:
Zoom Meetings and Chat, offering enterprise video conferencing with real-time messaging and content sharing.
Zoom for the conference room, software-based video with advanced collaboration features designed for workspace.
Zoom Video Webinars, offering webinar capabilities like full-featured host controls, on-demand viewing, and Youtube/Facebook Live integrations.
Furthermore, Zoom takes screen sharing to the next level: while its competitors lack any mobile screen sharing solutions, Zoom offers its users to use their iPhones, iPads, and Android phones. Zoom Chat, company's integrated messaging service, aims to replicate the awesome messaging and collaboration features of Slack — but it might be only suitable for teams deep in the Zoom ecosystem; otherwise, Slack offers far superior messaging and sharing experience.
Pricing-wise, Zoom draws a clear distinction between personal and commercial use: those who want to organize personal meetings can do it for free, while small teams and businesses pay per host — a user who, as the name suggests, hosts and manages the conference and invites others.
Price per host, per month: $0 (Basic) / $14.99 (Pro) / $19.99 (Business; minimum of 10 hosts) / $19.99 (Enterprise; minimum of 50 hosts)
Google Hangouts (Hangouts Chat & Hangouts Meet)
At this point in the article, we all get what Google Hangouts are all about: messaging and video/audio calls. Well, how is it different? Once again, the power of service lies in integration: in Hangouts' case, integration with the G Suite programs (Gmail, Calendar, Docs, Sheets, etc.) Google has designed its products in a way that makes the user feel as if G Suite was actually a single program – it's that convenient.
Interestingly enough, Hangouts seems to be, to put it mildly, inspired by Slack: both apps work on all platforms and feature direct + group messaging, third-party tools integration, and so on — so does Google's product deserve its spot in our list? It does! While Slack is a great platform, its creators barely have the resources available at Google — so Google has the privilege of letting the world's best software engineers refine a product over and over again.
Throughout the last ten years, Google has been trying to fix the chaos in its messaging services: sometimes the company developed standalone apps for Android communication and sometimes — cross-platform programs aimed at Google users in general. Nowadays, it seems like they finally found the answer: RCS (Rich Communication Services), designed to replace clumsy SMS, has been adopted by Google for use in their newest Android releases. RCS's brings iMessage-like functionality to Android which may encourage the users to start vanilla messaging apps again. The new mobile "Chat" app will essentially bridge the gap between mobile and desktop communication as it will be the native solution both for Android and G Suite users.
However, there is an important caveat that comes with using Google products: just as you find yourself invested in them, you may learn that some of them are heading for Google Cemetery. Google is always trying to improve its services — but this noble intention comes with a cost: some products have to be killed off to make room for newer and better ones.
In Hangouts' case, this service will be "upgraded" into Hangouts Chat and Hangouts Meet in October 2019, adding new functionality (and some headaches for admins who will have to assist their users in migration)
Price (for G Suite) per user, per month: $6 (Basic) / $12 (Business) / $25 (Enterprise)
Conclusion
In a remote environment, it may be tempting to scale in-team communication down to short texts and try to focus on work 100% of the time. Still, this may be far from the optimal decision: successful remote teams are proving that communication is important. With these tools, your in-team communication will be even more efficient — and in Part 3, we will take a look at project & team management tools, so stay tuned!